Our departure from Nebáj was dry and dusty; there was mile after mile of road construction, and in spots it seemed like the heavy equipment was carving new road out of the mountainside in front of us as we bumped along. We were ready to find someplace quiet and refreshing.
After a one-night stopover in Coban, long enough to get some rest and make a quick visit to an interesting restaurant that serves cardamom-flavored coffee, we caught a mini-van up to Semuc Champey.
Semuc Champey is one of Guatemala's natural wonders. The Cahabon River tumbles down through a narrow gorge and in a frothy maelstrom it disappears into the ground. Just below that vanishing act the water reemerges in a series of peaceful pools, shallow and sunwarmed. We spent a near perfect day swimming and admiring the beauty of the spot.
That night is started raining; at first it was nice, refreshing and rather novel. But rained and rained and rarely let up for most of the next week and a half. This is supposed to be Guatemala's dry season. I don't know what is going on.
We spent most of the time on or around water—another river and two more of Guatemala's three great lakes. Lake Atitlán, where we've spent a lot of time, gets the most press and is, indeed, beautiful. But the other two lakes, Petén Itzá in the northern jungle and Izabal, which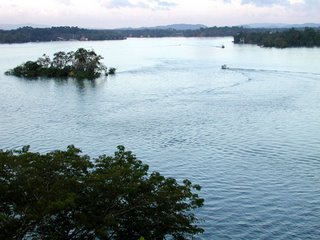 flows into the Carribbean via the Rio Dulce (Sweet River), are interesting and beautiful as well. They are warm and tropical, surrounded mostly by forest and jungle in contrast to Attilán in the western highlands, which is surrounded by steep mountains and volcanoes.
Rain on water is certainly better than rain on dirt and dust, and at least it was warm. But between the rain and the normal humidity of the area we were constantly damp. Our luggage had gotten rained on at one point and most of our stuff was damp too, and not drying out at all. We finally decided it was time to start the next leg of our trip and head down to Costa Rica. After 30 hours of bus rides, that is where we are now.
We got into San Jose late, nearly midnight. We were going to walk a block or so up to a hotel I had found online, but the cluster of taxi drivers waiting for the bus passengers all seemed to agree that walking in that area at night was a bad idea, even a block. So we took a taxi to another nearby hotel, one recommended by our helpful driver. It was only a block away too, but he drove us around a little bit pointing out all the crack heads lounging on the sidewalks.
The taxi ride was $4 and the hotel was $35. It didn't take us long to figure out we had been suckered. The hotel was a roach infested flop house (literally! When the proprietor was showing us our room Faye pointed out a cockroach as big as my thumb. The proprietor tried to step on it but it scurried under our luggage.
The room did have a private bath, which is an amenity we often don't have, but it was stinky and the sink drained into the shower stall. Not too classy. But we were exhausted and it was late, so we were ready to settle for anyplace. As we lay in bed I began to think the crack heads were probably better off than we were. That was probably the most uncomfortable bed I have ever been in. (Well, there was that one on the beach in El Salvador with the broken springs that kept poking us in the back. It was a real challenge to avoid puncture wounds, but the wind had blown the roof off and being able to look up at the stars made the uncomfortable bed seem not so bad.)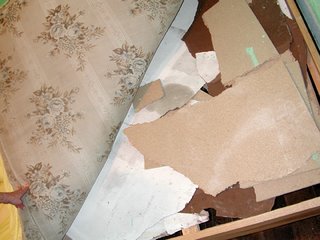 Anyway, the next morning Faye pulled back the thin foam mattress and we saw that it was supported by pieces of broken particle board and paneling laid across some widely spaced wood slats. Very creative. It didn't take us long to check out of there and move to the place that I had originally selected, which turned out to be quite nice and $10 cheaper.
We spent one day walking around the center area of San Jose, trying to get a little feel for Costa Rica, which we've never been to before. Two things that impressed us was the number of lottery vendors and hair care salons and stores. It is hard to judge a people on such slim evidence, but from those two things I would say Ticos (as Costa Ricans call themselves) are optimistic and vain.
Unlike its Central American neighbors to the north Costa Rica has been stable and relatively prosperous for nearly all of its history. In spite of our first impressions, Costa Rica is significantly cleaner and greener than the countries to the north that we are more familiar with, and the general attitude seems more relaxed.
A phrase you hear over and over is Pura Vida which means something like "Life is good" (literally "Pure Life") But it has so permeated the consciousness here that it is used to mean just about anything. For example, for some reason you can't wear a hat in a bank. We entered a bank and a young guard asked me to take my hat off. When I did he smiled, gave me a thumbs up and said "Pura Vida." I don't know what it meant in that situation, but it made me feel good.
Our main reason for coming to Costa Rica was to visit some expat friends, a couple I've known since journalism school, more years ago than any of us want to admit. They live in Monteverde, an area known for its cloud forest reserve, which was originally settled by a group of American Quakers in the 50s. We've just been here a couple days and are looking forward to getting acquainted with the area, and the community of interesting people. We plan to be here a couple of weeks; already we're wishing we had more time.