As far back as I can remember I have had flying dreams. And not just flying, but takeoffs and landings. When I was younger sometimes I felt a little apprehensive in the dreams, particularly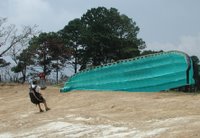 about landing, but overall the dreams were enjoyable. The more I had them, the better I got, as if each dream was a practice session. And for many years my flying dreams have felt exhilarating, with no apprehension at all. I have no idea what they mean, if anything.
A few days ago, I got the chance to go flying for real. An Aussi guy named Pete staying at the same hotel I am travels all over the world with a paraglider—sort of a parachute-like wing that packs up into a compact 60 lb. backpack. A group of paragliding enthusiasts—a club, sort of—join him in various places and he handles the logistics, such as lodging, transportation and finding launch and landing sites.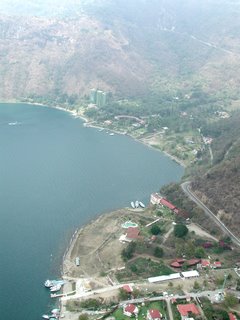 Most wings are for just one person, but Pete has a tandem rig; both people are seated quite comfortably about 20 feet below the wing, connected together by some webbing and stainless steel hardware. The "passenger" doesn't really have to do anything except enjoy the view.
I had seen wings in the air over Lake Atitlan, but had never talked to anyone with their own equipment. When Pete invited me to go flying I knew I had to try it, since I had been practicing in my dreams for so long.
A driver took us up to the top of a cliff near the lake, Pete got the wing all laid out and both of us strapped into our harnesses. Then we took a few steps forward to pull the wing into the wind. After a few tries the wing inflated just right and lifted us off the ground—and we were flying.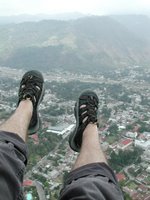 We soared out over the cliff face, and over the village below at the edge of the lake. We looked over and down at buzzards taking advantage of the same thermal updrafts we were.
Oddly, but not surprisingly, flying in the paraglider felt remarkably familiar, and completely enjoyable. There was certainly more equipment involved than in my dreams, though the paraglider is about as minimalist as can be. And I felt a little motion sickness (I looked for potential targets below). But other than that I felt like I had been there many times before. At the end we floated into the landing site, took a couple steps and that was it. All the practice paid off.