Our two weeks in Costa Rica, after we got out of San Jose and up into the mountains of Monteverde, were idyllic, about as good as it gets. Our friends Michael and Janet lent us their comfortable guest house with gloriously hot water in the shower, a full kitchen, king sized bed and a million-dollar view out over the Pacific lowlands, the gulf of Nicoya, and beyond to the Nicoya Penninsula. (The picture does not do it justice.)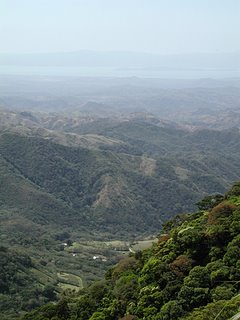 As I mentioned before, the three of us went to journalism school together. We all worked at it for a few years, but then moved on to other things. Now, the two of them are about as far away from journalism as you can get—they recently opened a boutique gift shop in Monteverde, and offer yoga classes and massage. Some years ago they also operated a restaurant in Monteverde. They are both excellent cooks and during our visit we were grateful beneficiaries of nearly nightly feasts.
Monteverde is more of an area than a town. In the early 50s several Quaker families from Alabama moved there after four Quaker men had spent a few months in jail for refusing to register for the draft. There was barely a road into the mountains where they settled. I saw some pictures of their vehicles being pulled through a quagmire by a team of oxen. I don't know what the roads are like now during the rainy season, but aside from some recently installed pavement around Santa Elena, a small town just a few miles down the mountain, Monteverde is still more than two hours from paved road.
The Quakers bought farmland and cows and started making gouda cheese, which was a product that would survive the rugged trip to market. The cheese factory is still there, and is now a modern facility making 14 kinds of cheese and various flavors of ice cream.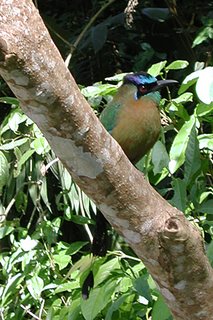 But the Quakers' biggest contribution, and one that has shaped the area, was their purchase of a large parcel of cloud forest, which they set aside as a reserve. In spite of the road thousands of tourists come to the reserve to see the flora and fauna, including the Quetzal, a magnificent but elusive bird. Though it is the national symbol of Guatemala I've never met anyone in Guatemala who has seen one. (By the way, the bird in the picture is not a Quetzal, it is a Mot-Mot, which is very common, though beautiful, and sometimes called the poor man's Quetzal.)
Some of the original Quaker settlers still live there, as well as second and third-generation descendents. There are also quite a few expats who have settled there in recent years, the kind of people who enjoy natural beauty, and a quiet lifestyle (as well as yoga and massage). Faye and I spent quite a bit of time walking the dirt roads through woods and past pastures, admiring spectacular views, and wondering whether Monteverde might be a good place to set up a base for our winter getaways.
We didn't go anyplace else in Costa Rica (and we didn't see most of the things tourists come to Monteverde for either!) But we'll be back. Costa Rica is better than we expected.
Faye is on a plane back home, as I write. Tomorrow morning I take the 3 a.m. bus back to Guatemala (with an overnight in San Salvador). Tonight I am back in San Jose. The crack heads on the street between my hotel and the bus station are getting rained on. (More weird weather!!) That might be a good thing though—there may be fewer of them to deal with when I make a run for the bus station in the morning.