Slow Boat to Luang Prabang

To me, that sounds like a good title for a novel—Slow Boat to Luang Prabang. The ideal length for such a book would be something one could read in two days, the amount of time it took us to get down the Mekong River to Luang Prabang from our departure point, Huay Xai (spelled a half dozen different ways, but pronounced "whey sigh").
Huay Xai is just across the river from the Thai town of Chiang Khong, where we spent the previous night. I guess our river trip actually began with a short ride across to Huay Xai on the Laos side the next morning where we, and about a hundred other travelers jostled to get through the border formalities. Nearly all were about to make the same trip we were.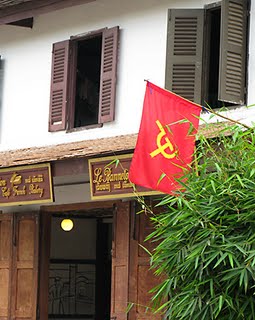 I hadn't thought about Laos being a communist country, but several buildings near the boat landing were flying the hammer and sickle. Yet, as I bought a few provisions at inflated prices, and given a very poor rate of exchange for some Thai money, free enterprise seemed alive and well.
There were enough travelers to fill two of the long boats that carry passengers and cargo up and down the river. We got on board, settled in for the trip, and got as comfortable as possible considering we were sitting on wooden benches.
Most of the impressions I had of the Mekong River came from my memories of reports from Southeast Asia during the Viet Nam war. The Mekong took on a mysterious and mythic status.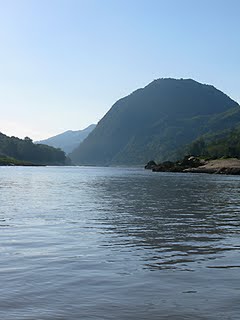 But as I thought about it, I realized those reports were from the southern end of the river, the Mekong River Delta. Whatever the realities of that end of the Mekong, then or now, where we were, much further north, was not what I expected.
The river flowed languidly past white sand beaches that would be the envy of any resort. Fantastic rock formations jutted out along the banks, or sometimes cropped right out of the water, all against a backdrop of dark green, mountainous jungle. Every so often we would pass a small village of bamboo huts. It is hard to tell much about a place just drifting past in a boat, but I was pretty sure I wanted to get off and live there.
The slow boats are called that not just because they are slow, though they are. The name distinguishes them from the "fast boats" that make the same two-day trip in six hours. The fast boats are basically small, river racing skiffs that hold a half dozen people. Every couple of hours or so one would rocket past us so fast I never did get a decent picture of one. The passengers, wearing life jackets and helmets, would glance over at us as they hunkered down in the speeding boat. I wondered whether they pitied or envied us.



As night fell we pulled into Pak Beng,a town about halfway between Huay Xai and Luang Prabang that exists only to service the passengers traveling between the two places. It wasn't nearly as seedy as we had been led to believe. Maybe the place has improved recently, or maybe our standards aren't very high. For about $9 we got a pretty nice room, and for about the same price had an excellent meal at an Indian restaurant down the street.
The next morning we and all the passengers from the two boats that had come down the river the day before learned we would be crammed into one boat for the remaining trip. We were not happy. As the boat got fuller and fuller I began thinking about the ideal novel again, that maybe it would be subtitled Mutiny on the Mekong.
Faye and I got on two hours before the scheduled time of departure—experience has taught us it pays to be early. There were already a handful of other passengers on board, as well as an elderly local man, sitting in the front row. An hour and a half later, when nearly all the seats were full and there were more passengers waiting to get on, the wrangler told the old man to give up his seat. So he got up and trudged towards the back of the boat.
A young American woman, traveling with her husband and pre-pubescent daughter shouted "No, that's not right! Let him sit there!" Somebody asked, "What's going on?" and the woman said, "They just made that old man give up his seat so a tourist could sit there!" I thought, "Look around lady, this is a tourist boat." But I kept my mouth shut, unlike the American woman who kept on about the injustice of it all.
As a few young Brits, who had been waiting on the bank got on the American woman said to them, "You have a seat because they kicked out an old man." With admirable restraint, and a charming accent, one said, "We weren't waiting for a seat, we were waiting for a different boat." Then they all made their way to the back of the boat, leaving the front seat empty.
As the boat finally left, the American woman got up from beside her husband and moved to the old man's empty seat to chat with some friends in the next row.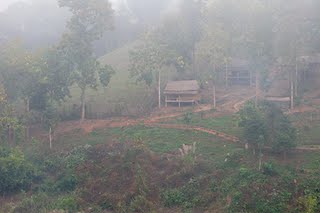 Aside from that excitement, and the crowding, the second day's trip was much like the first. People passed the time taking pictures of the passing scenery, reading, and listening to iPods Some were drinking large quantities of beer and whiskey. You could buy beer on board, but it took more foresight than I had to think of bringing your own whiskey. (We had tried some Lao moonshine made from sweet rice in the restaurant the night before. It was really good, and costs just over $1 a bottle.)
The boat arrived in Luang Prabang on the evening of the second day. LP, as people on familiar terms with the town call it, has been a popular tourist destination since the early 90s since the communist government eased restrictions, and it is easy to see why. The town is in a beautiful location, bounded by two rivers, the Mekong and a tributary, the Nam Khan. From the late 1800s until WWII the French controlled the area and buildings from that era remain, giving the town a colonial feel. (Another legacy from the French era is good baguettes and decent, affordable wine.)
It is the kind of place one might think Hemingway would feel at home—if it weren't for all the damn tourists. The town's charm is being smothered by tourism. (Yes, I'm aware of the irony of us coming to town and complaining about the tourists. Pot, kettle, etc.)
All along the main street there are only restaurants, shops, hotels and tourism offices, all offering the same tourist activities as the office next to them—excursions to local waterfalls and caves, treks to tribal villages, and going to elephant camps with the chance to learn how to train your own elephant.
Not that those things aren't fun and interesting and all that. If they weren't they wouldn't be so popular. We certainly enjoyed our experience with an elephant in Thailand. But it sometimes it feels like you are stuck in some sort of meta-reality with all your fellow tourists, unable to experience anything real, only what is packaged and presented to you.
At some point a destination can turn into a Disneyland. I expect someday there will be kiosks where you will just go buy a ticket for whatever attraction or activity you want to do ("You must be this tall to ride the elephants.") I guess that is the fate of popular destinations all over the world.
One always hopes to find an unspoiled jewel of a place, with natural beauty, friendly people, and hopefully a few good restaurants and Wi-Fi. But I suppose that is unlikely. Short of that I still think I would like to go live in one of those riverside villages in a little bamboo hut.
We plan on staying in LP several days, maybe a week. We're just in the getting acquainted phase, exploring the town on foot in ever widening circles, walking up streets and down alleys, poking our noses into anyplace that looks interesting. So far, even with the annoying tourists, it still seems like a very appealing place.