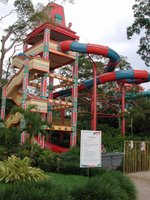 The water park, about an hour and a half down through the mountains towards the Pacific coast west of Xela, was great fun. With lush tropical landscaping and lots of good water slides, it very well done (a descriptor that is seldom applicable to things here). In fact, it was as good as any water park I've been to in the U.S., and maybe even more fun since safety seemed to be less of a concern. This is Guatemala, after all.
It ended up being an outing for quite a few of us–my godchildren and their parents, and a couple of aunts, one with her husband and two young children–a dozen of them in all, and me. I think everyone had a good time, but the adults didn't know how to swim and were afraid of the water slides. I stayed with the kids and they ran me ragged. The best rides were four stories high, and I don't know how many times we climbed the stairs to the top of those.
I spent a pretty big chunk of the kids' education fund on the trip. I'm not sure we learned anything, but it was a good time.
We went in the old Mitsubishi mini-van, about which I've written several times before. Though it has a new engine, I'm told, it is still a pile of junk. It struggles up every hill, backfires all the way down, and on the flats the engine dies every time the thing comes to a stop. But it got us there and back, so maybe I should let bygones be bygones.