Where tourism is the life blood of Panajachel, in Quetzaltenango foreign visitors are largely ignored. That is not to say that foreigners, whether upscale tourists or budget travelers, can't find places to stay and eat and plenty to do. It is just that Qutezaltenango is a city with other things to focus on.
Away from certain cafes, the cheap hostels which cater to budget travelers, and the language schools where travelers learn survival Spanish, it is not difficult to find yourself just about the only foreigner in sight. That is something you could never say in Pana.
Quetzaltenango, usually called Xela (pronounced SHAY-lah), from the much shorter old Mayan name for the site going back 500 years, is Guatemala's second largest city. The largest is the capitol, but Xela bears little resemblance to it. Guatemala City is chaotic, dirty, loud and, in spots, dangerous. Xela feels much calmer.
German immigrants came to the area in the 19th century to grow coffee. Their influence is still evident in the good bakeries, breweries and coffee shops. While more recently built parts of the city are the typically third-world uninspired concrete-block buildings, the older, central part of the city is dominated by large neo-classical stone architecture, and old, heavily plastered buildings, many of which are crumbling enough to show their adobe-block interior.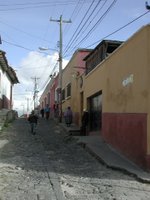 On Sundays, dignified old men wearing dark suits and fedoras promenade around the plaza and along cobbled streets, with their wives wearing patterned aprons over full skirts and heavy embroidered blouses (called huipiles,)and a strip of bright cloth woven into their long braids. It's the urban Maya look.
Years ago, when Faye and I were studying Spanish here, she tried to buy me one of those fedoras. Maybe she hoped that it would impart to me a dignity that I otherwise lacked. But alas, there were none big enough. I think if someone started making those things in larger sizes to fit fat-headed foreigners, they might do quite well.
Xela is known for its culture and educational institutions. There is a beautiful neo-classical theater with stone pillers, built around the turn of the century. It has been recently restored, but its first face lift came just a few years after it was built when a 1902 earthquake seriously damaged the theater and most other buildings in the city. (To add insult to injury, a nearby volcano erupted the same year, causing further damage.)
When the schools are in session (they start the new school year next week) sidewalks are often crowded with uniformed students-plaid skirts and white blouses for the girls and shirts and ties for the boys. There is also a large professional class, and between them and the well-dressed students it's enough to make a road-worn traveler feel rather shabby.
The main reason I come to Xela, and to Guatemala for that matter, is to visit my godchildren and their family, who moved to the city from a village on Lake Atitlan. I met them there over ten years ago (and also met Faye in the same village about the same time). They have been here in Xela several years now, and though I had some fears for them at first, they clearly made the right decision. There are numerous educational options for the kids, and more business opportunities for their parents, who were weavers in the village.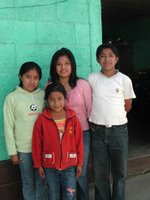 My four kids range in ages from eight to fifteen. Their older brother is 17, and starts university next week. Considering that their parents never got past second grade, that is quite a leap in a single generation, and one I am very happy to see. They all have come a long way, much further than I could have imagined when I first met them.
I'm not sure I am a very good example to the kids while I am here. I seem to spend a lot of time with the younger ones at the mega-mall window shopping, eating junk food in the food court, and playing games downstairs in the amusement area. (I have a headache from the bumper cars.) But it is what they want to do. I guess it won't do them any lasting damage, and I'll probably recover too. They are growing up fast, and soon they will outgrow such simple pleasures.
One of the more serious parts of my job as their godfather is to take them shopping for school supplies. The schools helpfully provide each student with a list. When the kids lived in the village, school shopping was quite an adventure in the nearby markets and small shops. Here in the city we went to a huge store much like a Fred Meyer in the States. Pretty boring.
In the few days we have left before school starts we are going to make the most of it. We are planning a trip to a water park I've wanted to go to for years. I think the kids are old enough now that they are not likely to drown. Of course, I am old enough that they may have to wade in and rescue me.