I have pretty much recovered from our outing to the water park. It took a couple of days. Maybe I'm not getting in shape quite as fast as I thought. The streets of Xela have their ups and downs, and it seems like I spend quite a bit of time every day walking from one place to another, or sometimes just back and forth to the same places. Several of those places are cafes, so perhaps the effects of the exercise are diminished.
One of my favorite cafes just recently reopened after taking a break following the holidays. The menu is limited, but the specialty is chocolate. I've been there two days in a row with the kids–a cup of hot chocolate yesterday, and a moka float (chocolate ice cream) the day before. Chocolate milk for the kids. I'm thinking I'll have a chocolate sundae today.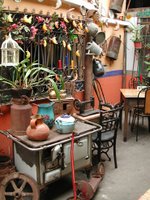 But there is more to the cafe than chocolate. It is as much museum as cafe. There is a small case with Mayan artifacts, but most of the displays are antiques from Xela's past. To look at them, if you didn't know better, you would have no idea that Xela was in the heart of a third-world country. Old typewriters fill a shelf that runs all the way along one wall just below a row of old leather suitcases. On the opposite wall there is a shelf filled with radios from the 30s and 40s. I'm sure most of the rest of the country didn't have electricity, but in Xela there were broadcasts, both radio and television.
There is a doctor's kit with what looks like instruments of torture, but what were probably state of the art at the time. There are printed schedules and a seat from a railway that used to run through here. Opera glasses share a case with a collection of pistols. On the walls hang everything from rifles and ceremonial swords to watering cans.
The antiques are not unlike those found in cultural museums of the era in other cities of the world. There is still more real culture in Xela than anywhere else in the country, unless you count the Colonial theme-park of Antigua. Guatemala gained independence from Spain in 1847. A century of progress and promise was followed by a half century of exploitation. That is an oversimplification, but when I look at these things I can't help but wonder what this city, and this country could have been had its history been different.
My other favorite cafe is also a museum of sorts. The walls are covered with photographs, newspaper clippings and documents going back decades. Large graduating classes pose in front of local monuments, and there are portraits of local poets, politicians and society matrons.
The coffee's not bad either, roasted on the premises. I usually order what they call the Americano which is strong and dark. But on the menu is something called the Atomic. I asked the waitress about it and she said it was three shots of espresso. I raised my eyebrows, she smiled just a little and said, "pure incense." It took me a few days to work up the courage to try it, but I did this morning. The waitress was right.
As much as I like coffee, I look forward to a hot cup in the morning even more here in Xela where the nights are chilly. There are two thick blankets on my bed, but sometimes that's not enough.
The place I am staying, where I always stay when I am in Xela, is cheap, with nearly 40 rooms that cost about $5, plus a dorm where a bed costs even less. The place is popular with budget travelers, mostly twenty-somethings. My room is in the geriatric wing, away from the patio where the kids sometimes hang out half the night. There are usually a handful of older travelers staying here, mostly Europeans, and the woman that runs the place puts us where it is quieter. Occasionally we exchange greetings in muddled Spanish or English, but little more.
Tomorrow or the next day I plan to head back to Lake Atitlan for a few days to warm up. On Friday I'm meeting my brother-in-law, Clark, and niece, Anna Colleen, back here in Xela. The two of them plan to cover a lot of ground in a week. Then Clark flies back, and Anna Colleen and I will go traveling for a couple more weeks. I better get rested up.