We've been in Myanmar almost three weeks. It feels like the place we were looking for on our trip to SE Asia. How could one not like a country with Spirulina Beer?
We got on the plane in Bangkok not knowing quite what to expect upon our arrival in the Yangon, the capital of Myanmar. Myanmar has the reputation of having one of the most authoritarian and oppressive governments in the world, a military regime that came to power in 1962. What would the oppressed people be like, and how would we be treated, we wondered.
A lot of travelers choose not to travel to Myanmar because they are afraid part of the money they spend will go to support the military regime, and that their very presence will somehow legitimize the government's existence. On the other hand, does staying away somehow help the situation, or does it just allow it to continue in secrecy? We considered those arguments and more, both for and against, and decided we would come. Good decision.
While I'm on politics I'll briefly address the question of whether to call the country Burma or Myanmar. Short answer: Myanmar. There are plenty of good reasons to call it Myanmar, starting with virtually everybody here does.
"Burma" was the name given to the country by the British during their occupation, because the majority of people are ethnic Bamar, or Burmese. The government changed the name to Myanmar in 1989. The official reason was to distance the country from its colonial past. At the same time a number of other place names were changed from their British-era names.
There is some ethnic tension between the ethnic Burmese majority and the non-Burmese minority—quite a few ethnic and quasi-ethnic groups. There is no reason the minority groups would want their country to be called Burma. In fact, quite a few non-Burmese areas would like to separate entirely, and refer to their area not as "Myanmar" either, but by its ethnic name, such as "Shan State."
So we touched down in the capital of Yangon (formerly Rangoon, renamed at the same time as the country) with some excitement, and a little apprehension. Airport formalities were a nice surprise, one of the smoothest and quickest entries we've had. Not at all Orwellian. No cameras or fingerprint machines, just an overworked official in a booth stamping passports as fast as he could.
Look for signs of oppression, we kept telling ourselves. We weren't quite sure what to look for. People at the airport were openly friendly and welcoming in a way we have never encountered.
That first impression has persisted throughout our trip. The more we have seen, the harder it has been to think of the Myanmar people as oppressed. Yes, they don't like their government, and for good reason. The military regime operates the country like its own fiefdom.
People suspect government spies everywhere, and some have tales of random arrests and imprisonment to prove it. (Contrary to what we read and were told, plenty of people have not hesitated to express their views to us. It is, I think, one of the major benefits, to them and to us, of foreign travelers coming to the country—to hear about the situation first-hand.)
So are the people here oppressed? I think the word "oppressed" implies a certain hopeless passivity, and that does not describe the people of Myanmar. They have a sense of vitality and happiness. It has almost become a joke with us how much people sing here, just walking around, working, or other random situations. More than once we've been passed by a motorbike loaded down with several passengers—all singing at the top of their voices. "There's somebody else singing," we'll say.
I think the right word might be "repressed." They are not being held down, they are being held back. It feels like there is a lot of potential here. Eventually the government will change; there is supposed to be an election later this year. Whoever is in charge in the years ahead will have their hands full. A democratically elected government will be just the beginning.
Well, I better get on with the travelogue or I won't have a place to put pictures.
For most travelers to Myanmar, particularly first-timers like us, there are four main destinations: Yangon, Mandalay, Bagan and Inle Lake. The four places form, roughly, a cross, with Yangon and Mandalay at the southern and northern ends, and Bagan and Inle Lake to the west and east. Getting from one to any of the others takes a pretty long bus or train ride—10 to 15 hours—and often at night. So far there are no tourist shuttles, as in many other countries. (There are package tours that carry customers around the country in big buses, but package tours are a money-maker for the government, so independent travelers avoid them.)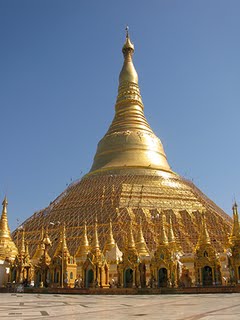 Like nearly everyone, we started in Yangon. Yangon is a big city with a lot of old buildings dating back to the colonial era (which, as Faye noted, look like they could use a good power washing). The streets around these old buildings were throbbing with small markets, food vendors, and people hanging out conducting all kinds of business. There was a stark contrast between the old buildings and the people below them. It was like one civilization living amongst the ruins of an earlier one.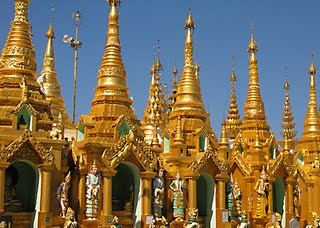 There are two beautiful parks that any city would be proud of, as well as one of the most impressive pagodas we've seen (and by now we've seen a lot of them.) According to legend, parts of the Shwedagon Paya, or Pagoda, is 2500 years old. At its center is a massive gold stupa, gilded with gold leaf on the lower part, then further up covered with gold plate, up to a crowning ornament of solid gold and silver, with thousands of diamonds and jewels. It is topped with a 76-carat diamond. It is pretty impressive even if you've already seen enough pagodas and stupas to last a lifetime.
But we weren't done with pagodas. Our next destination was Bagan, which is all about pagodas.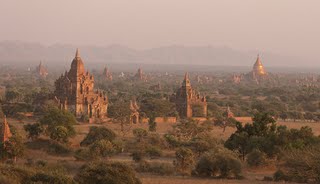 Bagan is a place that makes Yangon seem like a modern metropolis. More than 3000 pagodas and stupas are scattered over a large plain, some dating back more than 1000 years. In 1990 the government relocated people who lived in what is now known as Old Bagan, the area with the highest concentration of pagodas, a few kilometers south to what is now called New Bagan. The result is that Old Bagan, while not completely devoid of life, has a timeless feel to it. At sunset we (and every other tourist in Bagan) climbed to the top of one pagoda and watched as the sun bathed the ancient temples in a warm glow. It looked like the setting for an Indiana Jones movie. We spent a couple days exploring the area, by horse cart and bicycle, then caught a bus to Mandalay.
The road to Mandalay, it turns out, is bumpy and broken. We rode an old, rattling bus through a parched landscape. By the time we arrived we felt old and rattled as well.
Mandalay feels older than it actually is, just 150 years or so. For most travelers it serves more as a base to explore surrounding areas than a destination. It has all the hustle and bustle and grime of Yangon, but not much charm. The major attractions are a handful of old sites near the city with—you guessed it—pagodas.
Just south of town one pagoda has a quirky twist—a couple of large pythons have taken up residence around one of the Buddha figures. They have been there for years. Every day attendants lovingly wash and feed them. It is an idyllic existence for the snakes, except for all the people wanting to get their picture taken with them. The attendants gladly oblige, and make a little money doing it.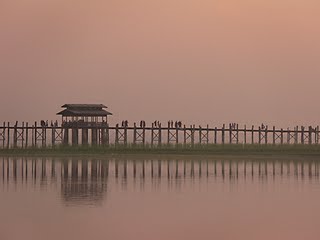 Another site is known more for its picturesque 1.8 kilometer teak footbridge over part of a lake than its pagodas. Tourists, local people and monks flock there at sunset for a stroll across the bridge. Quite a few monks study English, and many on the bridge take the opportunity to chat with English-speaking visitors.
We hired a car and guide to take us around. We don't normally do that kind of thing, preferring to explore on our own. But we have found that here in Myanmar, a guide has been an invaluable source of information, and we've seen things we wouldn't have otherwise. Our guide took us first to a workshop that made gold leaf, all by hand. The gold leaf is sold to devotees and applied to a well-known Buddha figure nearby, which has become thickly encrusted with gold.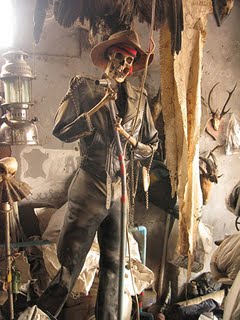 A cluttered leather shop across the street caught my eye and I wondered over and found one of the strangest things I've seen—a skeleton, dressed in leather and a cowboy hat, with a microphone clutched in his boney hands. Around him were giant python skins, mounted skulls of unidentifiable animals, and random junk. I don't know who he was. One friend suggested he might have been a former activist.
We continued north of Mandalay, up into the mountains of northern Shan state, to the town of Kyaukme (pronounced "chow-MAY"), The Shan are ethnic Chinese and make up the majority of that area, but there are other tribal groups as well. With another local guide, and a couple other travelers, we went on a two-day trek up into the mountains, passing through several villages, and staying overnight in a Shan village. We slept in the house of the local headman on the wooden floor in a communal sleeping room.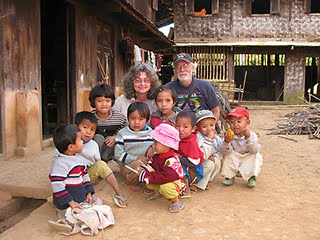 Our guide could speak the local languages, as well as English, and was familiar with the villages and the people in them. He helped with the language barrier, and we felt truly welcome. Unfortunately, sleeping on the floor felt truly uncomfortable. But the night passed and all was well. Our two fellow travelers were great company, and we all had a good time.
We returned to town on Valentine's Day, which also happened to be Chinese New Year. The guesthouse where we were staying, the only place in the town licensed to deal with foreigners, was party central. For two nights there was a live band, dancers, and dozens of drunken locals enjoying the show. After our trek, and the sketchy night's sleep, we weren't thrilled with having a party going on outside our door—the rear of the stage was literally a few feet from our room. But the key to coping with that kind of thing is to join in. We lasted as long as we could, then went to bed in spite of it all.
We returned to Mandalay for a night, then caught a bus for the fourth of the big four destinations—Inle Lake, where we are now. If Myanmar has a tourist destination, Inle Lake is it. We've seen more package tourists here than anyplace we've been. That said, it still doesn't feel touristy compared to other countries.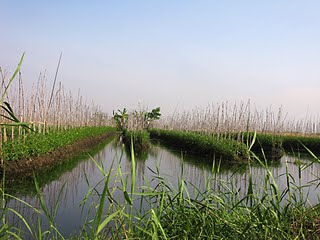 Like nearly everyone who comes here, we hired one of the motorized longboats to take us around the lake to visit various villages, markets and workshops where everything from silk cloth to cheroots to teak boats are all made by hand. What we found most interesting, however, were the floating gardens.
The lake is quite shallow, particularly near the shore. Vast areas have been converted to agriculture by forming rows of the floating lake plants and anchoring them to the lake bottom with bamboo poles. A layer of mud from the bottom is spread on top of the floating rows and then planted with all kinds of vegetables, and even flowers. Lakeweed is harvested and used as mulch on the growing plants. It doesn't get much more organic than that.
We have about another week in Myanmar. We think our next destination will be a beach. Wherever we decide to go, it will begin with an 18 hour bus ride to Yangon. The closest beach is 5 or 6 hours further. It's going to be a long day.