As much as we enjoyed Quebec, we looked forward to getting into New Brunswick and being able to read road signs again. As Canada's only officially bilingual province, signs are in both languages. At least it gave us an opportunity to learn what the French signs in Quebec had been trying to tell us.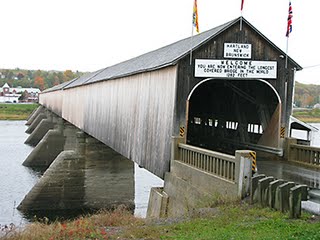 In spite of having been to New Brunswick years ago on a quick trip with my parents, I didn't have a clear impression of what it was like. Like the countryside of southern Quebec, there were beautiful rolling hills covered with trees in fall colors.According to brochures, the province is known for its covered bridges, and we crossed the longest one in the world.

And according to road signs, we were to keep our eyes open for giant moose, bigger than cars.
I had more of a reason to want to visit New Brunswick than just the usual sightseeing. My father's side of the family lived in the province in the 1800's. My father was born in New Brunswick in 1904, shortly before his family picked up and moved to California, leaving little trace behind. I hoped to fill in some blanks in my knowledge of family history, and even more, find some official record of my father's birth.
My father's family was Irish on his father's side and English on his mother's. My grandmother's family fled to Canada after the Revolutionary War, and came to an area settled by Loyalists who had been given land grants by the British Crown. (Though they were known as "Loyalists" in Canada, in the US the revolutionaries thought of them as something else.)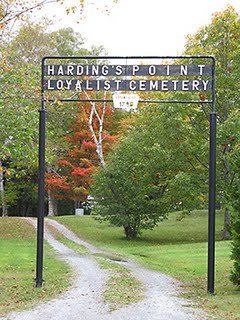 My father's father's side was Irish, and came to the area a little later. Though my grandmother's genealogy is pretty well documented, I don't know much about the Irish side beyond my great-grandfather, who was born in 1824 near where my father was born 80 years later.
Genealogical research is a lot like detective work, digging up little clues in various places, hoping one will lead to another. Fortunately with the internet, research has been easier, and some cousins have done a lot of work. But there were still plenty of questions to be researched. We poured through historical archives, visited several cemeteries and, most interestingly, were able to meet with some of my living relatives, including a 96-year-old cousin.
After a fascinating evening of listening to tales I realized that unlike my Loyalist English grandmother's lineage, which is pretty distinguished if you go back far enough, in my Irish grandfather's lineage there is little to brag about. There were some "characters," to put it politely, but my aged cousin cautioned me, "This information is just for the family." I promised.