For Faye and I, still in Panajachel, the old year ended with a bang, and the new one is beginning with a whimper. We were going to go on to Quetzaltenango this morning, but Faye woke up with an upset stomach, so we decided to stay put for another day. Nothing serious, just the usual minor intestinal distress that often happens about a week into a trip. It allows us to economize on the food budget for a day or so.
Panajachel is a destination for partiers over the holidays, particularly around Christmas and New Year's. There are plenty of good restaurants and bars, as well as little grocery stores selling booze. The streets fill up with revelers, mostly youthful Guatemalans, clutching quart-sized bottles of beer.
The only thing that could make public intoxication more fun is large quantities of fireworks, some of them massive, bomb-like creations. There don't seem to be any restrictions on firepower here. No one bothers with the stubby little firecrackers we are familiar with back home, unless it is a string of a thousand or so of them, all lit off at the same time. At the other end of the spectrum there are "firecrackers" as big as an oatmeal can that can pound your innards from a half-block away.
The firecrackers are made of gunpowder and newspaper. This morning the streets were covered with old news. By this afternoon the sweepers should have the streets clean, providing a symbolic beginning to the new year.
During the past week we've taken a few excursions. There are a dozen or so Mayan towns and villages around Lake Atitlan, all but Panajachel named after one of the twelve apostles. One day we took a ride across the lake to San Juan (Saint John). Weaving is prevalent among the Mayas throughout Guatemala's highlands, but for many years the vibrant colors associated with Mayan textiles have come from modern aniline dyes. In San Juan weavers are preserving the knowledge of old, natural dyes, mostly plant-based. The hues are more muted, almost pastel, and are a relief from the brilliant aniline colors.
Near the dock there was an interesting demonstration project using trash as filler in walls,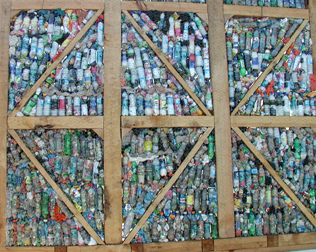 sponsored by outsiders, I suspect. Guatemalans seem to think nothing of littering, and plastic bottles, bags and other garbage seem to be everywhere. Someone got the bright idea of stuffing plastic bags into plastic bottles and filling in walls made of a wood framework covered in chicken wire. The wire is then covered with stucco or adobe to complete the wall. It is an interesting idea. I'm not sure anyone here needs the insulation, but if it gets rid of some of the trash I guess it is a good thing. Recycling hasn't caught on here yet.
Yesterday we took a quick trip out to San Antonio, also on the lake, (where Faye and I met twelve years ago) to visit some old friends, mostly aunts of my godchildren. We were there just long enough to catch up on some of the gossip; one of the aunts is pregnant with her eighth child, against the advice of everyone else in the family. No one (but her, presumably) knows who the father is. Her other seven children have been fathered by three different men.
Another friend we visited, Paulina, I've known for probably 15 years, since she was a young girl selling stuff to tourists in Antigua. She is grown now, with two or three kids of her own.
Paulina and her husband, Juan, opened a shop selling weavings and other Guatemalan handicrafts several years ago. A couple years ago they opened a restaurant above the shop. Things seemed to be going OK, but Paulina said Juan was worried about having enough money to send the kids to school, so he left for the US to find work (illegally). She hasn't heard much from him, but I guess he isn't making the money he thought he would. She is struggling with the shop and restaurant.
Juan and others used to ask me about jobs and wages in the US. Here the minimum wage is about $6.25 a day, so when they learn one can make that much in a hour in the US it sounds pretty good. But I always tell them that while wages are higher, so are expenses; it is pretty difficult to live on minimum wages much less have anything to send back home. So Juan is learning the hard way.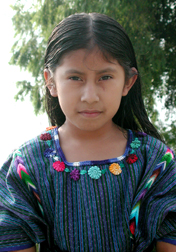 I don't know how Juan got to the US, or how much it cost him. A Mexican coyote, a smuggler who takes illegals across the border, charges about $6000. And for Guatemalans, getting through Mexico is as difficult as getting into the US. If Juan gets caught, at least the trip back home will be free; the US deported more than 23,000 Guatemalans last year.
Paulina asked me to look for a school sponsor for her oldest, 9-year-old Yessica; if anyone is interested, let me know. I can say from experience that it can be a rewarding relationship. And if Juan can come home both Paulina and the Department of Homeland Security will be grateful.
If all goes according to plan we will be in Quetzaltenango for the next couple of weeks, hanging out with my godchildren and their family.