We landed in Guatemala on Christmas morning after surfing our way southward by a variety of conveyances–from Ashland to Sacramento by Amtrak bus, Sacramento to Oakland by train, and a short hop to the airport by shuttle. Then the red-eye to Guatemala City with a change of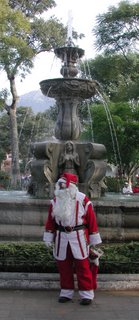 planes in San Salvador, and finally a 45-minute taxi ride to Antigua. By the time we got to Antigua we had been up for more than 24 hours and things felt a bit surreal. We slept for a few hours, got up for meal, slept some more, got up and walked around again–mainly because we were afraid that we might be wide awake at three in the morning if we didn't try to stay awake for a while–then went to bed again at a semi-normal hour. We slept soundly and woke up feeling like we still hadn't caught up on our sleep, but we had to catch an early bus to Panajachel, on Lake Atitlan.
Our one meal in Antigua was at one of the dozens of restaurants that cater to foreign taste buds (I had a panini, Faye ordered a mushroom crepe). During our meal we watched a Ben Stiller movie on a giant screen TV, in English with Spanish subtitles. It is hard to justify coming down here and watching American movies, but with the Spanish subtitles one can rationalize it as a way to improve one's Spanish. I know enough of both languages to find some of the translations odd. Cursing, in particular, seems to get watered down quite a bit. Not that I can curse with much fluency in Spanish, but the translations seem pretty tame. (A common one is "cielo!", meaning "sky", which my dictionary translates as "Good heavens!")
The colonial city of Antigua is Guatemala's major destination. Many tourists come to Antigua and not much farther. For others it is a beginning, particularly for the hundreds of students in town at any given time attending one of the dozens of language schools. After a week or two they venture out with the basics of the language still fresh in their minds, often to disappointing results. I know the feeling. More than twenty years ago, during my first stint at a language school in Antigua, I ventured up to Panajachel for the weekend. I remember trying to talk to an elderly local man, a Mayan, in my newly learned Spanish and being frustrated because he obviously didn't understand a word I said. Granted, my Spanish was not very good, but I later learned that he spoke only the local Mayan dialect. I was very surprised to learn that not everyone spoke Spanish here, but in the years since have met quite a few villagers, usually the elders, who don't. There are some 23 dialects spoken in Guatemala in addition to Spanish, and in the highland villages if you hear Spanish, they are likely speaking to an outsider, such as yourself.
This morning Faye and I settled into the little family run hotel where I've stayed for the last several years when I'm in Panajachel ($9 a night for two). It is a well-kept secret and I rarely mention it to fellow travelers. I would hate to think that my consideration resulted in the place filling up before my arrival. After checking in we went straight to the Crossroads Cafe to see our friends Mike and Adele and get a cup of what may be the best coffee in Central America (hand roasted by Mike) and some good pastries (made by Adele). The tiny shop is a favorite of local ex-pats, and of travelers who have heard of the place by word of mouth. In addition to Mike and Adele we ran into several other people we knew from past trips, some seasonal visitors like ourselves, others who have lived here for years. Mike is a very busy guy, but in addition to his coffee-making duties he always introduces everybody to everybody else, so it is a place to make new acquaintances as well as meeting old ones. I'm sure the newcomers are bewildered by the amount of abuse Mike takes from the regulars, but he is a captive audience behind the counter, and it is an entertaining way to pass the time for those on the other side with nothing better to do.
Of course there are plenty other topics of conversation, including politics, both foreign and domestic. Discussions of the American political scene is predictable–any defender of the current state of affairs is a masochist. I am more interested in learning about the changing Guatemalan political situation. A new president was elected in November and will take office in early January. The last several presidents who, by law, can only serve one four-year term, have ranged from the pretty good (Arzu, three presidents ago) to a despicable thug (Portillo, who replaced Arzu, and fled to Mexico after his presidency) to Berger, the outgoing president who was someplace in between. The new president Alvaro Colom, is further left than any president in recent history (probably going back to the 50s, before the CIA got involved in Guatemalan politics). He has run before, and was the candidate of a coalition of left-leaning parties, including former guerrilla groups. Guatemalans have a history of preferring strong leaders who promise to crack down on crime and corruption, but maybe voters finally realized campaign promises were virtually meaningless. Colom's promises of social justice and reforms may also turn out to be meaningless, but they are certainly different than what has been offered in past years.
Compared to most other presidential candidates who have sought to project an image of macho strength (Portillo bragged of killing a couple of guys in a bar fight), Colom seems soft-spoken and academic (this morning at the coffee shop someone called him "Mr. Smithers," a pejorative reference to a decidedly un-macho character on The Simpsons). One of the biggest failures of past presidents in this country, which has a Mayan population of close to 80 percent, has been, at best, the benign neglect of the Mayans, who still have very little power or influence in Guatemalan politics. (At worst, some 200,000 were killed or driven out of the country during the civil war.) What kind of president Colom will be remains to be seen. He, himself, is not Mayan, but he is a Mayan shaman (I have no idea what is involved in that ordination), and he promises a seat at the table for Mayan representatives, and consultations with Mayan elders. Colom's main idea seems to be a government with a broad range of representation from across Guatemalan society, which is quite a departure here where fourteen families control nearly every industry. Those families may be Colom's biggest problem, or even his undoing, but he seems to be starting out with good intentions and laudable goals.
I'll try to get a better handle on the political situation in the coming weeks and will report what I learn. Inquiring minds want to know, I'm sure. (There are probably a few inquiring minds who still would like to know exactly where Guatemala is!) But that is enough for now. I need to catch up on some sleep.