The Stone Temples of Ajanta and Ellora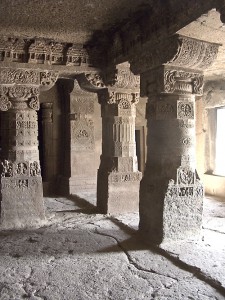 Even in the brief time we have been here, less than two weeks, it has become clear that India is a country of diversity and contrasts. Mumbai itself shows many different faces depending on which way you look (though whichever way you look, it is crowded.) But all of Mumbai is relatively modern— " Old Bombay" dates basically to the Colonial Era. In the scope of India's history, that isn't very long.
Our next destination was a giant leap into the past, the ancient and beautiful temples and monasteries of Ellora and Ajanta, near the city of Aurangabad. Carved out of solid rock cliff faces, some date back more than 2000 years.
Over a period of about a thousand years, monks with chisels chipped out a variety of ornately pillared rooms, massive Buddhas almost filling the chamber where they sit and many other statues and symbols. At Ellora Buddhist, Hindu and Jain temples coexisted side by side, testimony to the tolerance of eastern religions.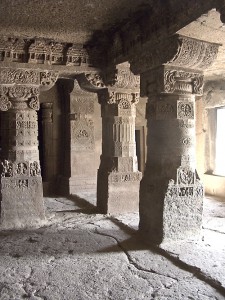 The Ajanta caves are the oldest and date back to the second century B.C. But thanks to being lost for centuries until a British soldier out hunting tigers discovered them in 1819, they are remarkably well preserved. Originally the walls and ceilings were covered with pigmented plaster paintings, using the fresco technique. There are still large areas where the paintings have survived and show the beauty and sophistication of the art of that era.
As someone who grew up in California thinking the Gold Rush of 1849 was ancient history, it is hard for me to fathom the age of these temples. They were a feat of art, architecture, and engineering—not to mention sheer effort—at a time when the western world was barely out of the Stone Age. One of the best reasons to travel is to encounter things which make you rethink your understanding of the world. India is doing that already…and we have two more months to go.
There is not enough room to include many pictures in this post, but there are a bunch more in the gallery [here].