San Cristóbal de las Casas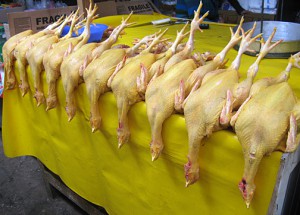 After two and half weeks of indolence at the beach we were about as rested and ready to move on as we were likely to get. So we put our traveling clothes back on and got an overnight bus into Mexico's southern mountains, to the town of San Cristóbal de las Casas,  in the state of Chiapas. Now that we're here, we're thinking we should have come sooner (though I can't say I regret any of those days of swinging in a hammock, reading and listening to the ocean.)
The last time we were in San Cristóbal was nearly 14 years ago. Even then it was a charming colonial town, with a few good restaurants. The Zapatista rebellion, which grew out of the indigenous population around San Cristóbal, was in full force. I recall that we had to postpone leaving town because the Zapatistas had closed the roads. But we figured that if we were going to be trapped someplace, San Cristóbal was a pretty good place to be.
In the years since, the rebellion has gotten quiet, though you can still buy Zapatista chic gear in the shops. And tourism has fueled an exceptional blossoming. San Cristóbal has retained its charm and, if anything, is more attractive today than it was a decade ago. A couple of streets are blocked to traffic, and are lined with coffee shops and restaurants, pubs, and shops selling art and local handicrafts. There is almost a bohemian feel. Around town are a staggering number of colonial hotels and pretty decent hostels.
There is a good nightlife, and numerous venues with live music. We splurged one night and took in a performance at one of the Argentinean restaurants. We sipped pricey drinks, listened to poetry and stories, and watched performers dance the tango. We didn't understand much of the poetry and stories, though the Italian-flavored Argentine Spanish is beautiful. But the tango…that's is something we will remember.
Argentineans exude attitude, or at least the ones I've encountered do. Most of the time I find them annoying. But the tango is all about attitude–and sure, some fancy footwork. But the tango is not a dance for someone with any self-confidance issues.  It is basically stylized strutting, and done right it is a thing of beauty. On the way back to our lodgings (which cost about the same as our drinks) Faye tried some of the sensous moves she had seen…and I had to remind her that it takes two to tango.
I think a main reason that San Cristóbal has evolved into the kind of place it is, rather than the tacky tourism-driven destination that so many other places have become, is the integrity of the local indigenous people. There are a number of Mayan villages around San Cristóbal, which are a major attraction for tourists, yet manage to maintain their traditions, for the most part.
The Zapatista rebellion was one expression of their sense of who they are as a people. But in at least one nearby village, San Juan Chamula, they've also managed to maintain their own religion, though blended with Catholicism which has dominated Latin America for centuries.  The identities of Catholic saints are mapped onto Mayan deities, and Jesus is worshiped as a sun god. Converts to mainstream Christianity are expelled from the village.
Though there are plenty of indigenous vendors in San Cristóbal selling their crafts and handiwork to tourists, I don't get the sense that they have prostituted themselves. It seems more of a symbiotic relationship.
One of my favorite shops is a small store near the handicrafts market which sells machetes, hoes, woven bags and even flint-tipped bow and arrow sets, among other things–all of which are used by the local villagers. San Cristóbal is not just a tourist destination, but serves as the commercial center for the surrounding villages.
A block or two from the handicrafts market is the real market, with all the produce, meat, clothing, and just about anything else you can think of. Third-world markets are one of our favorite things. They are a feast for the senses, often mouth-watering–and sometimes eye-watering, but always fascinating.
The San Cristóbal market is great. Most days we end up there wandering past beautiful displays of fruits and vegetables, and oddly positioned chickens. Fortunately the hostel where we are staying has a kitchen for our use, and for a few dollars we can buy fresh produce and cook very satisfying meals (so we can go out later and buy pricey drinks.)
Speaking of drinks, in my last post I said the difference between tequila and mezcal was that they were made from different parts of the same plant. I was wrong. Or rather, I was misinformed. I should have known better than to ask the guy smoking dope in the hammock next to me.
Both are made from the same part, the core or heart, of different varieties of the same plant.  Mezcal is made from the maguey, a variety of species of agave, and mostly in the state of Oaxaca. Tequila actually is mezcal, but made in a specific region–mostly around the state of Jalisco–and from only the blue agave.
As far as taste goes, probably the main difference comes from the way the two drinks are produced. For tequila the heart is steamed, and for mezcal the heart is roasted over an oak fire in a rock-lined pit, which gives it a distinct smoky flavor.
I was correct in saying that the quality of mezcal varies wildly (avoid the stuff that comes in gasoline cans or has a worm in the bottle), but some are every bit as good as fine tequilas, if not better. I've seen some very expensive bottles of mezcal here. In the interest of research we are sampling a mid-range bottle and are quite liking it. We hope to bring home a bottle of the good stuff (to share, of course!).
A few more days here, then back to Guatemala. This trip to Mexico has been a fun detour.