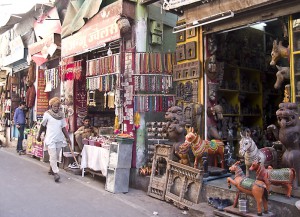 It turns out that a two-day train ride isn't as fun as it sounds. Better than a bus, certainly. But by the formula "Getting there is half the fun", the trip from Kerala to Rajasthan fell significantly short.
Imagine being stuck in a summer camp cabin, in bunks about the same size as when you were a child, unable to go outside for two days, and surrounded by 50 people who talk constantly among themselves, but are unable to communicate with you. It wasn't that people were unfriendly, exactly. But our efforts to communicate hit a brick wall. So we caught up on reading, podcasts and sleep.
Communication in India has been interesting. Hindi is the official language, but there are numerous other languages spoken in various parts of the country. And in some regions Hindi is rarely spoken at all. So the de facto second language of India is English. Written English is everywhere—signage, newspapers, menus, etc, and presumably it is widely understood. And it really helps us get around.
Perhaps spoken English is also widely understood, at least among Indians themselves. But in most cases, to us it might as well be a different language. (It may be a two-way street—on television the English language movies have English subtitles.) Of course we've encountered a few Indians we've understood quite well, mostly those whose livelihood depended on it. But random strangers, not so much. Several times, in frustrated attempts to communicate we have lapsed into Spanish, which doesn't really help at all.
Back to how much fun getting there vs. being there is, an important consideration is how much fun "there" is. And I'm happy to say that we've enjoyed our first week in Rajasthan quite a lot. It has felt refreshing in more ways than one. It is dryer in the north, and this time of year not too hot and not too cold. Down south we were getting tired of sweating. And I didn't want to say it before, but somehow Portuguese Goa and half-Christian Kerala (at least the part where we were) didn't seem very Indian.
Rajasthan, on the other hand, is story-book India. It is the land of marble palaces and desert forts. In addition to the usual holy cows, there are camels and elephants. Brilliantly colored clothing and flashy gold jewelry contrast with the muted tones of the arid landscape.
Our first stop was the small holy city of Pushkar, one of the oldest in India. At the heart of the city is a lake where for thousands of years Hindu pilgrims have come to bathe away a lifetime of sins. The small lake is completely surrounded by ghats—concrete stairs leading down from street level, enclosed pools, and platform areas—for the use of those who come to bathe.
I think the evidence shows that sins are quite polluting. I'm not sure what the saturation point is, but I'm sure the lake has reached it. I would be reluctant to bathe in the lake, afraid that I might leave with more sins than I came with.
In recent decades foreigners—seekers, spiritual dilettantes and regular tourists—have also flocked to Pushkar. There is a vibrant mix of the spiritual and bohemian. There is a colorful bazaar, several blocks long, on a street that follows the curve of the lake. Shops sell incense, handicrafts, and a mix of clothing—some traditional and quite a bit of retro stuff that made me nostalgic for the 70s.
There are some quirks in a holy city. By law meat and alcohol are forbidden. But so is holding hands and kissing in public. Doesn't seem very romantic, but ironically Pushkar is a very popular place for weddings. I'm guessing the ceremonies do not end with "You may now kiss the bride."
Looking ahead, in the next couple of weeks we'll be taking a whirlwind tour through Rajasthan's three most famous cities—Udaipur, Jaisalmer, and Jaipur. Should be fun, but it feels like we're turning into tourists.