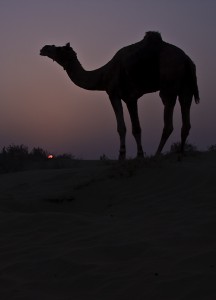 Udaipur, Jodhpur, Jaisalmer, Jaipur—even the names sound exotic and intriguing to me; and no less so now that we've been to them. Each one deserves its own post, but that isn't going to happen.
Our first stop after Pushkar was Udaipur, in the southern part of the state, and located on a pretty nice lake. Considering that Rajasthan is a desert state, lakes are a big attraction.
In my last post I mentioned that Pushkar was a popular wedding location. So is Udaipur, but for an entirely different class of wedding. Udaipur has a beautiful palace, formerly the home of the royal family but now semi-commercialized. If you have your heart set on a fairytale wedding, the Udaipur Palace is available. Not only that, there is another, smaller palace in the middle of the lake, also available. But for a price. Just a few days before we got to Udaipur an Indian businessman married his fashion designer girlfriend in a wedding that lasted three days and reportedly cost $20 million. Guests arrived in more than 200 private jets. The wedding singer was Jennifer Lopez.
To get a good look at both the palace, which we visited, and the off-shore lake palace, which is now an exclusive hotel off limits to the lower classes, you can watch the James Bond classic Octopussy, which shows nightly at several Udaipur rooftop restaurants. Of course we watched the movie, and it was kinda fun to see scenes in the movie and be able to look out across the lake at exactly what we were watching (well, not all the scantily clad women, but at least the palace.)
From Udaipur we traveled to Jodhpur (via bus; no complaints). I'll skip to the part that interested me most, which was another palace, but a more recent one, built in the first half of the 20th century. And regardless of whatever reservations I may have about such monuments to royalty, vanity or whatever the case may be, it is a stunningly beautiful place, built mostly in the Art Deco style that was popular in Europe at the time. It is built entirely of pinkish stone, and is called the Umaid Bhawan Palace. It has 347 rooms and took 3000 workers 15 years to complete.
As you might imagine the chap who commissioned it was named Umaid Bhawan, and he was the latest in a line of Maharajas stretching back more than a dozen centuries. He was known for the prowess of his internationally competitive polo team, and the pants they wore which became known as "Jodhpurs." The Maharaja commissioned the construction of the palace as a relief program for his people suffering from a three-year drought, and they loved him for benevolence. Or at least that is what the informational signs at the palace said.
Please bear with me while I make a few observations and pose a couple of questions.
The Maharaja obviously considered himself a job creator (or at least his PR department did), and may have actually believed his people loved him for giving them something to do and food to eat. But I think it is instructive to look at the deal in light of the kind of deals more contemporary "job creators" propose. The Maharajah got a 347-room palace; the people he hired avoided starvation. That was the deal.
Something else puzzled me; if there was a famine caused by a drought, where did the food come from to feed the workers? Or was it simply that they could not afford to buy food? Droughts have occurred regularly in India, but historically "famine" was often the result of the export market paying more for grains than the domestic one; food was sold to the highest bidder by the producers, or the government which, for nearly a century beginning in 1848, meant the British.
And another question: The palace obviously was not built by amateurs. It is an engineering marvel, tens of thousands of precisely carved stones put together entirely without mortar.  Employing 3000 skilled stonemasons tells a different story than hiring 3000 starving villagers. Enquiring minds want to know.
OK, back to the travelogue.
We took an overnight train from Jodhpur to Jaisalmer. I had mistakenly booked our sleeper in the class lower than what is usually recommended for foreigners. The main differences are the lower class is not air conditioned, the bunks do not have privacy curtains, nor do they have bedding. But the more interesting difference, we found, is that the passengers are friendlier and more likely to at least attempt conversation. When we got on we immediately struck up a conversation with a mathematics professor. His English was quite good, and we had an interesting chat.
The heart of Jaisalmer is a 12th-century fort. Unlike most other of the old forts in Rajasthan, the one in Jaisalmer is still inhabited. About 4000 people live inside the walls in an area less than a square mile. The palace at the center of it has been preserved as a museum, but the rest of it is packed with homes, shops, hotels and restaurants. It feels like a bustling medieval village.
There are also a number of Jain temples with some impressive stonework. I don't have the space to go into who the Jains are. I'll just note that they are an ancient religious sect who comprise only 1 percent or so of the population, but they have had a large influence on Indian history and culture. Mahatma Ghandi's doctrines of non-violence and tolerance were taken from Jain beliefs. As a group they have tended to be wealthier than average. In Jaisalmer Jain refugees, who had fled persecution in another part of India, contributed financially to the construction of the fort.
One of the main things to do in Jaisalmer is take a camel safari into the desert—for a few hours or a few weeks. We took an overnight trip, and it was a lot of fun. With a handful of other travelers from around the world we slept out under the stars, far from the traffic and noise of the city. Except for the digestive sounds of the nearby camels, the night was completely silent, and the sky clear and bright with stars. That alone made the trip worth it.
Camels are not lovable creatures; they complain bitterly over any perceived sleight. We didn't develop any affection for them, as we did for elephants in Thailand. Riding the camels wasn't as uncomfortable as I was afraid it would be, but we were pretty sore for a few days afterwards.
By the time we got to Jaipur we were ready to take it easy for a few days and save up some energy for a busy final couple of weeks.
Jaipur is the capitol of Rajasthan, with a population of more than 3 million people, nearly all of whom own a vehicle and insist on driving it around the city during the day, constantly honking at each other. Well, maybe not, but it seems like it. I've about had it with India's traffic.
The interesting part of Jaipur is the old city which is where the City Palace is, as well as a large bazaar area. When Jaipur was founded, in 1727, the ruling Maharaja consulted ancient Hindu architectural and design manuals and laid out the city according to orderly principals. Certain types of crafts were clustered along one street, another along a different street, etc. I'm sure it made shopping easier back then when you knew where to go to buy what you wanted, but now wandering past 40 shops all selling the same thing gets a little dull. As always it was more interesting to get off the wide streets and into the narrow back alleys and smaller shops to look for the odd surprise.
A famous landmark outside the city is the 400-year-old Amber Fort, another marvel of stonework and marble. It was crowded with tourists and touts. I think it was somewhere during our tour of the fort I reached my quota of stone forts. Maybe it was as I was climbing up the stairs, which were designed to discourage invaders. Or maybe it was when yet another marginally helpful person expected a tip for doing next to nothing (which is pretty discouraging to tourists, let me tell you.) But as impressive as the fort was, there are only so many amazing old forts you can see and still tell them apart.
If it seems like all the temples, palaces and forts we've seen are starting to blur together, they are. But we're not quite done yet. I am saving a place for one more palace (actually a mausoleum) and one more temple. And then we'll be done.
Lots more pictures in the gallery [here].