OK, that's a joke. As far as I can tell here in Guatemala present-day Mayas either don't know about the dire predictions of the end of the world in 2012 based on the old Mayan calendar, or they don't believe it. Either way, it is life as usual, which means celebrating important events, some traditional, some not so much.
This past weekend my oldest goddaughter, Angelina, graduated from college with a degree in medical science. It is sort of a pre-med degree and she plans to continue and become a doctor. Such an achievement is not at all traditional amongst the Maya, but thankfully it is not as rare as it used to be.
Angelina and her family moved away from their village about eight years ago so she and her brothers and sisters could get a better education, which they have done. She is the second in the family to graduate, at the top of her class no less. Her older brother graduated three years ago with a degree in computer science.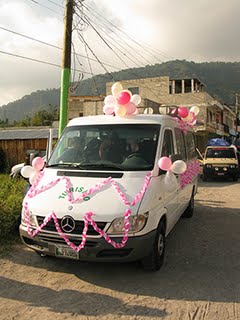 After the graduation ceremony in the city on Friday, Angelina's family, relatives and friends, and I, filled two vans—one rented, and the other an old pile of crap I've had an adversarial relationship with for years—and returned to their home village to celebrate. A few miles from the village we stopped and both vehicles were festooned with balloons and streamers. Just outside the village we stopped again to light off a string of firecrackers announcing our arrival. (Firecrackers—and much larger aerial bombs—are quite traditional and are used to celebrate virtually anything.)
In the past, higher education has been close to a dirty word in the village. When Angelina's aunt went away to school, on her way to becoming a lawyer, the family told their neighbors she was serving as a maid in the city. There may have been some envy and jealousy of Angelina's achievement (actually, I know there was), but as far as she and her family were concerned, it was not going to be kept secret.
Before returning to the village Angelina's family and friends who live in the city and usually wear normal, western clothes—at least the younger ones—had changed back into their traditional village outfits. Angelina stayed dressed in the navy blue suit that she had graduated in. When she got out of the van in front of where her extended family still lives, she really stood out—literally and, more importantly, symbolically.
A couple of rooms had been decorated with balloons and streamers. Friends and extended family sat down to enjoy a feast of Mayan party food.
The staple of the Mayan diet is corn, usually tortillas, which are eaten at virtually every meal, including breakfast. In nearly every village household, every morning corn is ground into a flour, called masa, to make tortillas. And when Mayas party it means even more delicacies made from masa. (Alas, no cake and ice cream) Over the next couple of days I think I counted half a dozen different items made from basically the same thing, but cooked or seasoned differently, or of a different consistency—everything from rather dense tamalitos, which are lumps of masa steamed in corn husks, to a delicious drink called atol, which can be spicy or sweet. A dozen women were kept busy making the tamales, and boiling huge pots of chicken over open fires.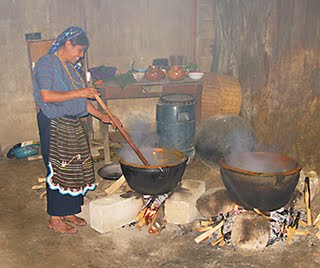 After filling up on corn meal and Pepsi, many of the guests at the party on Friday gave little speeches congratulating Angelina and her family. Or I assume that is what they were saying. The villagers speak a Mayan language that I don't understand except for a few words. (Most also speak at least some Spanish, but not to each other.) One of the words I do understand is "Thank-you," and there was a lot of that. Some of it was even directed at me, which was nice. Fortunately I also know how to say, "You're welcome."
Another feature of nearly all Mayan celebrations is a Catholic mass. The vast majority are at least nominally Catholic, and have been so for 400 years, since the Spanish Conquest. On Saturday the village church was decorated with more balloons and streamers, and lace, which made it look quite festive.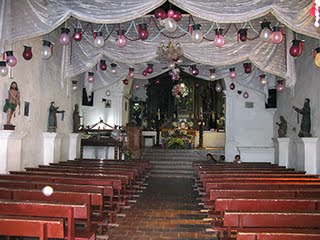 On Sunday all of us, dressed in our finest, including me, went to mass. Angelina's mother was on her left arm, and I was her right as we led her family and friends into the church. I'm sure her father would have been in that position were he not working in the tobacco fields of South Carolina (illegally) trying to make some money to send back to his family. But he wasn't there, so as her godfather that was my job.
I think I've been to a grand total of four masses before in my life, and three of them were when I became godfather of Angelina and her three younger siblings. It was all a little strange to me, and I tried to follow the cues of the others. We were in the front row—and I stick out like a sore thumb amongst all the short, brown villagers—so I knew I was being watched.
I may have gotten baptized; I'm not sure. I knew better than to take the hors d'oeuvres they passed around. But at some point Angelina, her mother and I were called up to kneel in front of the priest and he sprinkled water on us. It felt pretty good because it was hot in the church, and I would have welcomed another squirt or two. But I wasn't quite sure of the significance of what had just happened, and didn't think asking for more would have been appropriate. I'm sure the priest had already noticed that I had not been participating wholeheartedly in the ceremony.
After the mass, a bunch of us had another meal, this time bread, for a change, and hot chocolate. Then we hopped in the van and drove back to the city.
It was a remarkable experience to witness this event as part of the family. It is something the casual tourist, I think, could not imagine. People ask me why I keep coming back to Guatemala. It is for times like this.
On a different subject entirely, while I was in the village I got a chance to talk with a friend who had gone to work (illegally) in the US. After six months he decided it wasn't worth it and returned. I heard another friend, who was in the US for two or three years, has come back too. I hope to talk with him next week. Little is heard about this issue from the perspective of the illegal immigrants, so maybe I can learn something.