Canada's prairies, stretching east from the Rockies in Alberta, across Saskatchewan and most of Manitoba, are a lot of not much, surrounded by next to nothing. I think the prairies are the kind of place you either love or hate, and I loved it. There are vast fields of wheat, some of it harvested, some waiting to be threshed.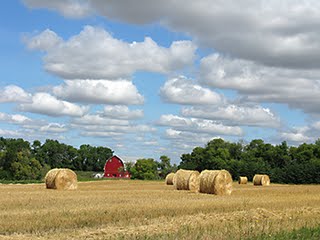 Giant round bales of hay lie scattered in green fields, with occasional fields of corn, sunflowers and other crops. This time of year, at least, the prairies are beautiful.
Small towns are strung out along straight roads. Some are barely alive, just a name and sometimes a slogan— Stoughton: The Crossroads of Friendship; Coronach: Where the Past Meets the Present;Esterhazy: Postash Capital of the World.
Our first destination after leaving Moose Jaw (Where You Want to Be) was a pilgrimage to Canada's most famous, yet fictional, small town, Dog River. In six successful seasons the sitcom "Corner Gas" portrayed life in the small Saskatchewan prairie town. After the series ended earlier this year "Dog River" evaporated, leaving the actual town of Rouleau (Buckle of the Grain Belt.)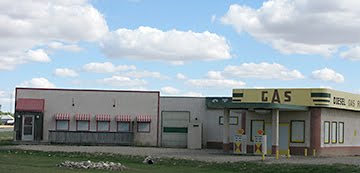 Truthfully, the visit to Dog River was one of the things I was looking forward to most on our cross-Canada trip. I wish we could have got there while the series was still being shot. There is not much there now, aside from the quiet little town that was there before the series. Part of the famous gas station and the Ruby Café is still there, though boarded up. Some of the existing buildings that were used frequently in the program are still there. The "police station" is now a coffee shop that sells souvenirs. (I bought a hat.) But I wasn't disappointed. We saw what's left of Dog River, and now when we watch the TV show we can recognize places.
Down the road a ways we stopped at another small town, Souris, Manaitoba, known for having the longest suspension foot bridge in Canada (but no slogan.) As we entered town we saw a couple selling homemade jams and jellies, so we pulled in. After we bought some Saskatoon berry jam and a jar of pickled vegetables we noticed we were parked in front of a little café. So we went in for lunch—homemade soup with garden vegetables, and a sandwich on homemade bread. Delicious.
We left with a loaf of bread, after being urged by the waitress to go see the swinging bridge. We did, and it was fun to walk across, and worth seeing. Getting to the bridge we drove past nice old brick homes that were testimony to a prosperous past, if not present. Souris was the kind of surprise that makes taking back roads worth it.
By evening we were in Manitoba's only city, Winnipeg. After days on the prairies I don't think we were ready for a city. I'm sure Winnipeg deserves a better review than I am likely to give it, so I will leave it at that. We spent one night, and part of the next day, then headed eastward into Ontario's cottage country.