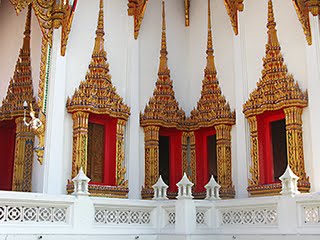 We spent the first night of our budget trip to Southeast Asia in a Hilton Hotel…in Chicago. Our plane sat on the tarmac in Toronto for three hours waiting for the snow to let up to in Chicago, and when we finally arrived our connecting flight had already gone. We had left our winter clothing in Toronto, so we were not prepared to spend time in freezing temperatures.
The Hilton cost us three times our daily budget—even with the half off voucher given to us by the airline. Not a good start, but we've learned to be flexible.
In spite of continued snow flurries, and being on stand-by, we managed to get out of Chicago the next day. We flew on Japan Airlines, which was a real treat. The Japanese flight attendants were invariably perky and polite, qualities I've found lacking in the flight attendants on recent North American flights. At one point one offered me a spoon for the ice cream she had just given me. She bowed as I took it from her two outstretched hands.
The 12-hour flight to Tokyo, as well as the 7-hour flight on to Bangkok, was made as pleasant as one could hope for by such graciousness—not to mention three pretty decent meals, snacks between meals, complementary beer, wine and other beverages, and frequent offerings of juice, coffee and two kinds of tea. And moist, hot towels every so often. I know the folks in first class had more legroom, but I can't imagine they were treated any better we were.
Air travel has become more and more unpleasant in recent years. On North American airlines (including Canadian) there seems to be a race to the bottom. You're lucky to get a bag of peanuts tossed at you. It is nice to know that quality service is still available in some parts of the world.
At some point over the Pacific Ocean we crossed the International Date Line and Wednesday afternoon became Thursday afternoon. We got to Bangkok just before midnight, and by the time we got settled in our budget hotel it was about 1:00 a.m. Friday morning, though as far as our bodies were concerned it was 1:00 p.m. Thursday afternoon. We had some serious jet lag to deal with for the next few days.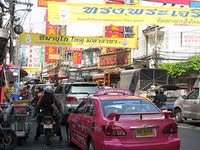 Waking up later Friday morning after what was little more than a nap, we ventured out into the city. Almost immediately we felt like we had slipped into sensory overload. The sights, the sounds, the smells—and seen through the daze of our jet-lagged eyes, almost surreal.
I didn't expect to like Bangkok; I generally don't care much for big cities. We had thought of it as a starting point, but intended to leave as soon as possible. But after spending a few days here we've changed our minds. Bangkok is amazing. Even things that should be familiar seem different and exotic.
Even from the plane, as we were coming in over the city, I noticed the first difference—vehicles drive on the opposite side of the road.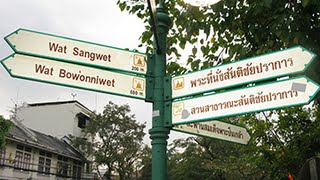 In the airport I got my first sight of Thai words, written in a script unlike anything I've ever seen. It is beautiful, but offers no clue at all as to how to pronounce words. Sometimes on street signs, menus or phrasebooks, there is a transliteration of Thai words, written in familiar letters. But that doesn't usually help.
The markets are incredible, something that has to be seen to be believed. We visited one with more than 10,000 stalls covering 16 acres, selling everything you can think of—food, fine art, furniture, jewelry, electronics and probably enough clothing for everyone in the country. That much stuff in all one place just defies imagination.
Another large shopping center we went to was four and a half floors of just electronics and computers with seemingly everything except what I was looking for, a battery for my laptop.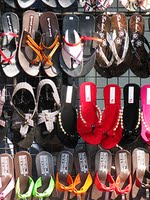 Seeing all these products, it is not hard to believe that Asians will someday take over the world, not through any evil intent, but because they work harder. Even the production of common consumables seems to be labor intensive. We've seen tidy rows of baked goods shaped like animals, and colorful sweets that are miniature masterpieces, almost too beautiful to eat. I know much of Southeast Asian is poor, but in Bangkok at least, there is a sense of abundance, if not excess.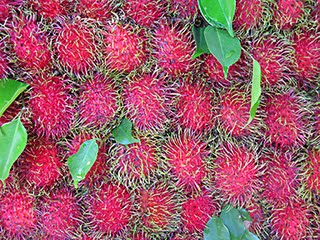 Speaking of food, I've never seen anyplace with as much food as we've seen in the markets and on the streets here. Food vendors are set up side by side nearly everywhere, many with small tables and benches for customers. In markets in stall after stall, fruit, vegetables, meat and seafood is piled high on tables or in baskets. Things slither and squirm in tubs of water. Much of it I don't even recognize; some that I do—such as live water snakes or toads—I'd rather not.
Aside from reptiles and some other things I'm not going to touch, the food is delicious, and cheap. A good meal can be had for two dollars or less. Unfortunately a beer can cost as much as the rest of the meal. But a large mango shake costs about half that.
As bewildered as we felt our first morning in Bangkok, after spending a couple of days navigating to various destinations around the city we felt like we were starting to get the hang of it. Bangkok has a very good transportation system. There is an elevated rail and a subway—both quite modern. There are more than 250 bus routes. But the most pleasant and interesting mode of transportation has to be the riverboats that go up and down the Phraya River, which runs through the city. There are 30 stops, and for about 50 cents you can get on and off anywhere along the way.
Amongst travelers, particularly the "party''til you puke" crowd, probably the most famous destination in Bangkok is Khao San Rd., a small area packed with bars, cheap hotels, and hundreds of vendors catering to the tastes of the young and restless and wanna-be road warriors. It is a real circus, and interesting in a strange way even for the not so young. But we're glad that we didn't see it first thing; we would have had a very different impression of Bangkok.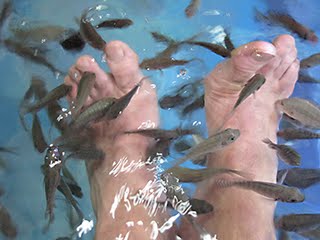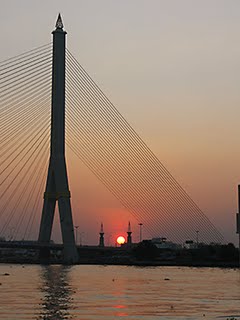 Massage is a big thing in Thailand, and everywhere there are small places offering to rub just about anything. Faye had warned me to not even think of accepting the "happy ending" offered by some of the more, shall we say, full-service places. On Khao San Rd. we saw a place that offered "fish massage." Sounded safe. It wasn't exactly massage, but a pool of water you stuck your feet into and hungry little fish nibbled at them. Supposedly they eat off all the dead skin. I had to try that. I'm not sure the fish ate any dead skin, but it certainly was an interesting sensation.
As much as we've liked Bangkok, we are just getting started and are going to move on. Tonight we will take the overnight train to the smaller northern city of Chang Mai, a base for trekking into the mountains where the hill tribes live. We barely scratched the surface of Bangkok. Perhaps we'll have time at the end of our trip to explore it a little more.