When we arrived in Bangkok a couple of weeks ago our bodies believed it was past bedtime, and the calendar told us it was getting close to winter. But local time was just past noon. And the climate… aside for the rare air-conditioned respite, I don't think we've stopped sweating since. Temperatures are in the mid to upper 80s, with humidity about the same. As SE Asia transitions to what passes for winter here next month the humidity should go down quite a bit, and the temperatures will plunge to the low 80s.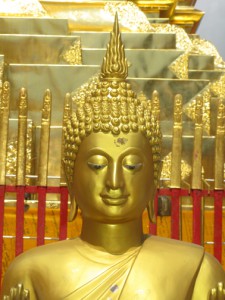 It is hard to describe Bangkok to someone who hasn't been there. It is a seething mass of people, traffic, smells and sounds. It is cooperative chaos. It seems to avoid complete gridlock by an act of collective will. If you've ever seen the classic sci-fi movie Blade Runner," well, it is like that. Except for the androids.
On the other hand, maybe there are androids. It would explain why we, and other western foreigners, are the only ones sweating. It is the strangest thing. Not to mention embarrassing. Wherever we go, regardless of the heat and humidity we are surrounded by locals who look fresh and crisp. Meanwhile we are oozing from every pore, in our rumpled and could-be-cleaner travel clothes, hoping we don't smell too bad.
We stayed in Bangkok four nights, just long enough to get our visas for Myanmar, and partially adjust to the time zone and climate. It is the kind of city that deserves more…and less. One could easily spend a month exploring the sights, and the nooks and crannies that perpetual motion tourists rarely see. But there are certainly more pleasant places in Thailand to spend time.
We roamed the city the few days we were there, always giving priority to places with air conditioning, such as a rather spectacular multi-story downtown shopping mall. (When it comes to culture I believe shopping malls are every bit as valid as ancient temples. Really, I do!) The second floor was filled with high-end stores such as Louis Vuiton, Versace, Salvatore Ferragamo, Hermes and Prada, to name just a few. There were sparse, tasteful displays without a price tag in sight. Because if you have to ask, well, you know. There was just one place with price tags–an exotic car dealership, with some vehicles costing more than $400,000. If we hadn't felt so happy not to be sweating we probably would have felt more out of place than we did. We were surrounded by attractive young Thai fashionistas. A handful of well-dressed shoppers browsed in the stores. We didn't go in any of them. There was literally nothing in sight we could even imagine being able to afford. Ever.
Bangkok is not so much a city of contrasts, as it is extremes–with everything in between. Of course there is the poverty and street urchins, which is not surprising in a third-world country. But the other end of the spectrum, the world-class wealth, does surprise me and challenges my preconceptions. Of course one can bemoan the disparity between the ultra-rich and the pervasive poor, but what is really interesting about Thailand, Bangkok in particular, is the large professional class, the office workers, medical and financial employees, and business people who fill the gleaming glass and steel buildings and crowd public transportation.
As we noticed when we were here before, Asia seems to be forging full-steam ahead, in contrast with much of the rest of the world stymied by economic problems and recession. A financial analyst here said in a recent newspaper article he expected Asia to take advantage of the situation to make significant gains relative to the West. Another article predicted expected development in Myanmar, which is opening up to the world after decades of sanctions and self-imposed isolation, would fuel economic activity for the entire region. (We'll learn more about that when we are in Myanmar next month.)
Leaving Bangkok we took the overnight train north to Chiang Mai. It is Thailand's second largest city, but much smaller than Bangkok with an entirely different feeling. Bangkok is a business and financial hub; Chiang Mai is known for its culture and educational institutions, particularly the medical schools. There are plenty of travelers passing through, and a lot of expats live in Chiang Mai, so there is a real East/West mix. There are options for those tired of Thai.
When we were in Chiang Mai three years ago we thought it might be the kind of place we could live, at least seasonally. So part of our reason for returning was to further explore that idea. I think the jury is still out. The humidity has dampened our enthusiasm a little. In a couple of days we'll be moving further north in search of cooler weather. We plan to return to Chiang Mai after our trip to Myanmar. By then the climate should be much more pleasant for exploring.
The other main reason we returned to Chiang Mai was to get some dental work done. I needed a couple of crowns on molars that had broken several months ago. The dental work here is quite good, and a lot cheaper than at home. The crowns cost a little less than $350 each, including the x-rays and stuff. The bad news was that I will need another crown and a root canal when we come back next time. That gives me something to look forward to!
In addition to the dentistry, Chiang Mai is known for something much more enjoyable–massages. Massage seems to be a cottage industry all over Thailand, but nowhere more so than Chiang Mai. There are little massage businesses everywhere, and at the street markets you'll see rows of massage chairs where, for about $4 an hour, you can get your sore feet rubbed or a relaxing head and neck massage. It is hard not to fall in love with a place that specializes in making you feel good. (And no, it is not just a tourist thing– Thais are also frequent customers.)
You'd think by now I'd be somewhat of a connoisseur of foot massages, but I'm not. As far as I am concerned they are all good, and they only way they could be better is to be more frequent. Not that some of them haven't been memorable. A few days ago we were passing a school for the blind and saw that they offered massages. So we went in and had a couple of blind guys do our feet. As I was lying there I thought of the parable of the blind men and the elephant, and I wondered how these guys would describe their customers to each other at the end of the day.
Then we read about a massage place where the masseuses were inmates of the Chiang Mai Women's Correctional Institute. I had visions of a row of hardened women chained at the ankles forced to do penance by rubbing the feet of strangers all day as they contemplated their life of crime and the path that had led them to where they were. But it wasn't like that at all. When I went in I found perfectly normal young women, as far as I could tell, working in a rather upscale salon, with air conditioning, nice music and beautiful Thai decor. From what I understand they are trained to be masseuses while in prison so that they will have a marketable skill when they get out, as well as some money. Evidently they get to keep at least part of what they earn. My fantasy was shattered, but it was enjoyable none the less. And if I want to give my masseuse a second chance, I'll know where to find her. ———-[More photos]