When I am in Panajachel I usually start my mornings at the Crossroads Cafe, where my friend Mike Roberts offers up what may be the best coffee in Central America (not to mention excellent pastries made by his wife, Adele).
This morning I hadn't even gotten started on my first cup when Mike said, "Hey Jim, want to go to a coffee finca? We leave in twenty minutes." What few plans I have here are flexible, and a trip to a coffee farm sounded like fun. So I gulped my coffee and ran back to my room to get my camera. Mike left Adele in charge of the coffee shop and the two of us, along with one of Mike's daughters and a brother and his daughter visiting from New York, headed around to the other side of the lake, to the base of one of the volcanoes that dominate the horizon across from Panajachel.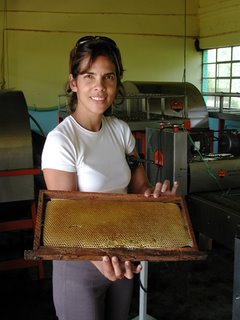 To call the place we visited a coffee farm is a serious understatement, because it is so much more than that. It is owned and operated by a couple, Sylvia and Carlos–she is originally from Ecuador and he is Guatemalan, with agriculture degrees from the University of Florida and Texas A&M. The finca is about 2500 acres, half of it a forest preserve and the rest comprised of not only a coffee plantation, but a large nursery with a million coffee seedlings and bamboo plants, a dairy, bee hives and a worm farm (and a small herd of goats who aren't earning their keep yet).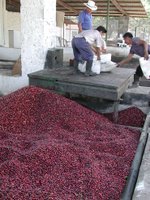 Each of the elements is interrelated: The bees not only make honey, but pollenate the coffee plants, which produce up to 40% more coffee than wind-pollenated plants. The cows produce milk, and manure which is used as fertilizer, and fed to the worms. The manure also produces methane, which will be used on the farm in place of propane. (There is also a hydroelectric plant that produces electricity.) The soft outer skin of the coffee bean, which is stripped off in processing, is used as a mulch and also used as worm food. The rich, organic soil produced by the worms is used for coffee seedlings.
The goal of the farm is to produce as little waste as possible during production of the various products. The idea seems to be working remarkably well, while at the same time producing excellent products. I sampled honey straight from the comb, some fresh cheese made from the cows milk, and a very tasty cup of coffee. (Mike is looking forward to getting a supply of coffee beans from the farm to roast and serve in his shop.)
The farm employs up to 800 local people around harvest times. Sylvia and Carlos are proud of the relationship they have with their workers, but stress that they don't give anything away for free, which fosters dependency. Instead, they offer jobs, fair wages, and training in marketable skills.
The farm is a model of production and innovation, but gaining acceptance for the ideas has proven difficult. Innovation is a hard sell in Guatemala, where sometimes it is difficult to tell the difference between tradition and inertia. Perhaps it is a sign of progress that Starbuck's has bought most of this year's crop. Of course, they will have to take what is left after Mike gets his.