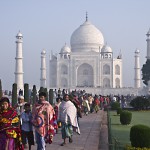 We've wrapped up our trip with two of India's most iconic monuments, a festival so colorful and crazy that it is hard to describe, and a goofy ceremony.
If there is one place that is identified with India more than any other it is the Taj Mahal, in Agra. It was built by Shah Jahan to memorialize his third wife, Mumtaz Mahal, who died giving birth to her 14th child, at the age of 38. Construction began in 1632 and took 20,000 artisans 22 years to complete. Had Mumtaz Mahal seen the monument while she was alive I am sure she would have been impressed, as have millions of people since.
The Taj is beautiful, majestic and with some imagination and judicious mental editing, serene. But that last part is easier said than done. The monument is visited by 3 million people a year. It is a real challenge to appreciate the grandeur of the place surrounded by crowds of other people trying to do the same thing. Most of the crowd are Indians, who can get in for 20 rupees (about 35 cents). But there are plenty of foreigners too, in spite have having to pay 750 rupees (about $12 USD.)
There is a fairly small room which houses the tomb of Mumtaz Mahal, as well as that of Shah Jahan, which is probably exquisite, with lattice-carved marble screens and a soaring vaulted ceiling. But we felt like we were in a rugby scrum. It was hard to get a good look at anything. We were nearly trampled both entering and leaving.
On the way out I did notice a bit of graffiti scratched into the glass of a small window by the door, dated 1856. I guess vandalism is nothing new.
India has a lot of festivals, mostly local and regional. But the festival of Holi is celebrated almost throughout the country. It is associated with the Hindu god Krishna, who had a reputation for playfulness. According to Hindu beliefs Krishna grew up in Vrindavan, not far from where we visited the Taj Mahal, so we figured that would be a good place to experience this festival.
And I do mean "experience."  Holi is known as the "festival of colours". Though celebrations vary throughout the country, one thing that is nearly universal is that streets are crowded with people —mostly young men—rubbing or throwing colored powder on everyone around them (as well as the occasional opportunistic grope). It is a time for Indians to let loose and express unbridled exuberance. In Vrindavan we got the full treatment. Foreigners were favorite targets, but we were treated with a bit more restraint than some other travelers we saw were. Sometimes age has its benefits.
I don't know what Vrindavan was like when Krishna was a boy, but these days it is a typical small Indian city—gritty and chaotic. There are hundreds of temples in town, many of which are built of beautiful, gleaming, white marble, in stark contrast to the rest of the city.
One of the most popular temples, built in 1975, is that of the International Society for Krishna Consciousness, or ISKCON. Remember those guys dressed in orange, bouncing around on street corners and airports in the 70s chanting "Hare Krishna, Hare Krishna….?" Well, that's them.
The founder, Swami Prabhupada, came to New York in the mid-60s, nearly penniless, and developed a following that spread around the world. The temple complex in Vrindavan is quite nice, as you might expect from a sect with a lot of first-world devotees, and seems to be on the leading edge of entrepreneurship and fund raising.
The Hare Krishna's, as most people call them, are quite the proselytizers and have a large publishing wing which produces literature in more than 70 languages. They are kind of the Jehovah's Witnesses of the Hindu world.
When I started to plan this trip, back a few months when I knew next to nothing about India, I had one place I knew I wanted to go—Amritsar, in Punjab state in the northwestern part of India. Were we live there are a lot of Sikhs from Punjab. When we go to Indian restaurants in our area we eat mostly Punjabi food. I wanted to know more about where the Sikhs come from. Sikh men are often quite impressive, taller than average, with long hair wrapped up under their turbans, and magnificent beards.
Amritsar is the site of the Golden Temple, sacred to the Sikhs. The Golden Temple dates back to the 17th century, and earns its name by being covered in more than 200 pounds of gold. The temple itself is at the center of a large, serene pool surrounded by marble temples, clocktowers and other buildings. The entire compound is clean, peaceful and beautiful.
Sikhism is an interesting religion, distinct from Hinduism, Islam and other major religions. It is monotheistic, and teaches tolerance for all religions and equality for all. At the Golden Temple more than 35,000 free meals are served every day to anyone who wants one, be they king, beggar or tourist.
There is also a significant political element to Sikhism; they are fiercely proud of their history, religion and language which sets them apart, and in the past anyway, have felt disenfranchised in India—which has led to some unfortunate events.
In the early 80s a political group formed to fight for the rights of Sikhs in Punjab. One thing led to another, and in 1984 a group of armed Sikh militants took up residence in the Golden Temple. Against the advice of some, then Prime Minister Indira Gandhi ordered an attack on the group in the temple. The leader and hundreds of others were killed.  Understandably Sikhs in Punjab and elsewhere were outraged at the assault on their holy site. A few months later Ms. Gandhi was assassinated by two of her Sikh body guards. I don't know how she didn't see that coming. It didn't end there of course; in the aftermath of the assassination thousands of Sikhs were killed.
There was one more thing we had to see before our trip ended. Amritsar is near the border with Pakistan. Every evening guards on both sides perform a border closing ceremony that has to be seen to be believed.
We were dropped off a kilometer away from the border, to walk the rest of the way on foot. As we approached we went through an Orwellian gauntlet of security checkpoints, multiple passport checks and pat downs. But at the border Orwell turned into Monty Python.
The bleachers on the Indian side of the border were packed; the bleachers on the Pakistan side were mostly empty. The crowd on the Indian side of the border were warmed up with cheers and flag waving. Over on the Pakistan side there was a one-legged guy holding a large flag, spinning around in a circle.
Then, on the Indian side, the dance music started and scores of girls left the stands and danced in the street. Over on the Pakistan side the one-legged guy was still spinning around with his flag. The Indian side was definitely having more fun, which had to be some sort of message to the folks on the Pakistan side.
After the warmup, the main event—lowering the flags and closing the border for the night. On both sides of the border guards in flamboyant headgear marched back and forth to the gates as the crowd cheered and clapped. There was a lot of high kicking, foot stomping, fist shaking and general belligerent posturing worthy of a WWF pro wrestling match. Eventually the flags came down and the gates closed.
I'm not sure what the point of the whole thing is, but it was a lot of fun. I'd like to see something similar at the border crossings between the US and Canada.
As with everywhere else we've been in India we just scratched the surface of Punjab. But we had a good time and it was a good place to end our trip. I'm sure we enjoyed Amritsar more because we were able to meet up with some friends from the US who had been traveling in India for about the same time we have been. It was fun to compare notes and tell stories of how we experienced this country.
Well, that's the trip. We have a few days in Delhi to do a little shopping and relaxing, then we fly home. I'll have some final thoughts in a few days. Stay tuned.
More photos in the gallery [here].