Today is Bush's last day in office. Those words bring me more happiness than I can express. I'd like to breathe a sigh of relief and say "We survived," but a lot of people—Americans, Iraqis and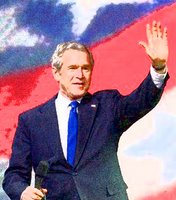 many others—didn't, thanks to Bush's policies and actions. Yes, almost 3000 people were killed by al Qaeda in New York on 9/11™. It was an attempt to terrorize the US, which, I'm sure, has succeeded far beyond Osama bin Laden's wildest hopes.
Terrorism is the tool of the weak; it relies on the reaction of the victim to do most of the work. The loss of life at the World Trade Center was tragic. Loss of life always is. The financial loss was also significant. The attack was certainly a blow to the US. But it was slight in comparison to what Bush, and his enablers, did to the US, and to others countries, in reaction to the attack. Most of the terror we have experienced in the years since 9/11™.has been the result of Bush's actions, not bin Laden's.
Bush fanned the flames of fear at every turn. A paranoid public allowed his administration to record our phone conversations, search our homes without our knowledge, and even force libraries to reveal what books we read. Thousands of people are banned from flying, with little or no recourse or explanation.
People have been arrested and held on evidence that would be laughable except that their actions were labeled "terror related." It has been a remarkably convenient label, short-circuiting the normal protections of our legal system. Such arrests and prosecutions are little more than theater, designed to give the impression that the government is keeping us safe (as are most of the security screenings at airports).
Has Bush kept us safe, as he claims? It's impossible to know for certain. The self-serving cloak of secrecy the Bush administration drew about itself means we have to take his word for it. But consider this: those who would wish us harm have been able to rest on their laurels while we did more to ourselves than they ever could.
Bin Laden evidently is still out there, alive and well and able to record the occasional poke at the US with impunity. He is also able to exhort his followers to keep fighting. He doesn't need to do much else. His propaganda is made more effective by the insensitive actions of American forces in the Middle East. I can't see footage of soldiers kicking down doors looking for "bad guys" without cringing. All al Qaeda recruiters need to do is follow those soldiers around. The fault lies, of course, with the policy makers more than the soldiers. They are just doing what they are trained to do. But they do it in our name.
The Bush era will forever bear the stigma of one word above all else—torture. Abu Ghraib, Guantanamo Bay, and waterboarding have done more damage to the image of America than anything else in history, in my opinion. For a country that seeks to inspire and lead by example, image is invaluable. Bush cashed in our image in exchange for fear and force. He governed like the bully he is.
I'd like to think that there will be accountability for the excesses and crimes of the past eight years, but it is highly unlikely. It would be a first for an outgoing American administration to be tried and prosecuted. But political malfeasance has never risen to this level. Historians and researchers will probably spend decades uncovering the secrets of the Bush administration, and may never uncover them all.
The election of Barack Obama has gone a remarkable way towards restoring the image of the US, though I suspect we will never entirely recover. Now the world knows what Americans are capable of. Obama has already made moves to distance himself from the policies of the Bush administration, vowing to order the closing of Guantanamo immediately after assuming office. It would be a nice touch if he placed George Bush under house arrest in Crawford, Texas, and banished Dick Cheney to whatever secret place he always fled to during trouble.
Starting tomorrow our country will begin the long road back. Bush, Cheney and the whole gang, from evil to inept, will be taking the road out of town. All I want to see of them is asses and elbows.